Here is a simple, but elegant treat I put together in anticipation of the 3GirlJam Challenge....that STARTS today!
Since February will be here before I blink, I've been thinking back to all those school valentine parties that I used to have when I was a child...and then those my daughter had in elementary school. She really stressed about making sure that she brought in the ABSOLUTE best valentines and gifties that she could talk me into. I don't really remember the pressure when I was a child, but I believe my daughter either invented her own perfection and pressure OR there was this overhanging competitive nature in even the smallest gestures that I either never paid attention to...OR it didn't exist. (Now, how was THAT for a run-on sentence!)
Anyway, I also think the recent visit to 3GirlJam's store ALSO got me thinking about it all, because they have introduced the NEXT iteration of
buttons
in their store that I just had to use on this simple treat. ...right in time for all those treats and cards you need to make for whatever Valentine's Day party your child is attending!
And right now, they are on sale. There are two sets of buttons. You can even order in bulk for MORE savings. And if you have any questions, I'm sure that Mrs. Bling herself (Julie) will be happy to help.
More about the Challenge
The challenge that starts today should be easy peasy to participate in...the theme is: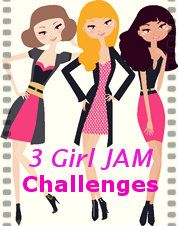 It's a Party
Now, who doesn't want a party in January (especially when it's cold outside...or in my case, when it's SUPPOSED to be cold, but it's 60F!) It's being sponsored by Inky Impressions, and again, as usual there are GREAT prizes.
Simple Rules:
1. Use ribbon and follow the theme for the challenge.
(you do not need to use 3GJ Ribbon or an image from Inky Impression- but we would love to see it!!)
2. Follow the 3 Girl JAM Challenge blog.
3. Add the 3 Girl JAM Challenge button to your side bar.
4. You will have 3 weeks to link up your entry
(last day to enter will be January 31th, Winner will be announced on February 1st.)
5. Be sure to link up to your blog post and not your blog.
(It will make it much easier for the design team to leave you some love!)
6. NO BACK LINKING
7. Have fun!
Just remember the following:
Date: Jan 11- Jan 31 (3 weeks)
Prize: $10.00 Gift Certificate, 1 bundle 3GJ ribbon, Guest designer spot
Tres awesome, oui? So get busy, play some loud music, bang a drum, and create a project so you get a chance to win a bundle of very nice ribbon and cashola!