Yay! It's Friday. So glad the weekend is here...and I'm taking the day off! My hubby and I have a date with Caitlin (middle daughter) and her boyfriend this evening and I have too many things to do to let work get in the way...Right!
First on the list is sharing this great bag I put together to hide a gift inside! It might still be Winter, but I'm feeling the Spring-time vibes! Can you tell?
Not going to tell you what's inside! HA!
But I will tell you a little more about it.
Products I used:
Muslin Bag from 3GirlJam - This one is one of the 5x7 bags.
3GirlJam Goblin Green Crinkle Ribbon - From the Spooky Bundle
3GirlJam Button - This is a little sneak peak of what's to come in March!
Your favorite cotton fabric in coordinating colors
Fabric/Acrylic paint
Two sided fusible webbing
Stamps (the stamp I used was one I cut on a lino-block myself!)
Medium Ric-Rac
Felt
Your favorite pattern cutting tool (I used my StampinUp! Big shot, Top Note Die, Blossom
Parties Originals die) - cuz it is my go-to fav machine!
Hint:
I used the acrylic paint for the stamping directly on the bag. You can use acrylic paints with rubber stamps without issues...I do it all the time. But it is sometimes tricky applying it evenly to a stamp. I'll give you a secret....I use a porcelain paint watercolor palette for mine and a brayer.....I already had the palette...they are EXPENSIVE, but you know what works BEAUTIFULLY? - a smooth gloss coated 12x12 tile from your home improvement store! So here is what you do:
Put a small dab acrylic paint on your tile
Using your brayer, even out the paint rolling the brayer. It should roll out to an area larger than your stamped image.
"Ink" up your stamp in the paint like you would using a stamp pad.
Stamp on fabric.
Repeat 1-4 as needed. If you are adding repeating images as I did in my project, you won't need to add acrylic paint with EVERY application. You'll be able to tell when the paint needs to be "resurfaced" on the tile.
Goodness Gracious are you still with me? Hope So...
NEW 3Girl Jam CHALLENGE
If you are...this project is a sampling of the new 3GirlJam challenge that starts today. So, go make yourself something beautiful and enter! No harm, right? And if you win, you'll win some great stuff!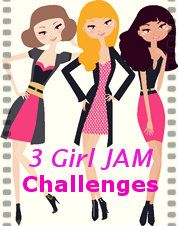 What can you win?
This is one sweet deal....
It's being sponsored by Stateline Bags and you can win a bucketload!
25 Canvas Bags

1 bundle 3GJ ribbon

Guest designer spot